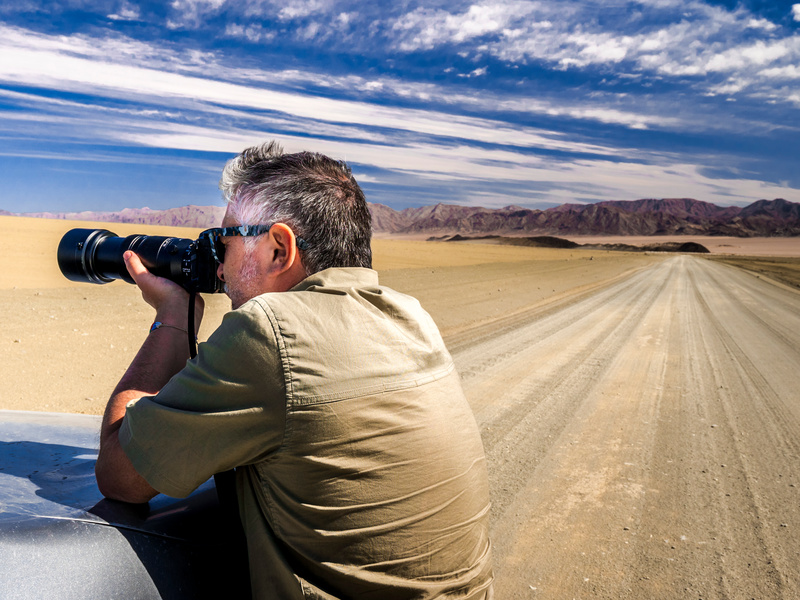 Namibia is a gem for those in search of the unexplored and wilderness. Namibia is a large country with one of the lowest population densities in the world and bizarre desert scenery on Africa's south-west coast.
Namibia has four main geographical regions (from West to East): Coastal plain/Namib Desert, Namib Escarpment, the rocky Central Plateau with its high mountains and the Kalahari Sandveld which is characterized by its flat layers of sand. The northern regions of Namibia included entrancing tribal villages, lush green forests, and the famous Etosha National Park. Therefore, Namibia presents the most spectacular landscapes for photography and filmmaking".
Filming and photography permits are required for commercial photography and filming purposes Only. More Information on that can be found on the Namibia Film Commission website at http://www.nfc.na/
Photography and Filming
Whether you set out on your own self-drive safari or join a group of like-minded travelers, Namibia is Africa's best-kept safari destination secret. In Namibia, you have the opportunity to venture into the unknown and yet be completely safe. Visitors can take in the beautiful wildlife and unique landscapes at their own pace, on their own terms.
Like nowhere else in Africa, Namibia provides the visitor the opportunity to escape stress, experience peace and freedom, sit and admire the breathtaking landscapes and reflect. From game-packed parks to the silence and spectacle of the desert, this incredible country, its landscapes, people and wildlife are waiting.
Safari and National Parks
Land, air and water-based adventures include quadbiking, 4x4 trails, hiking, birding, skydiving, kayaking, windsurfing and kite boarding along the coast.
The adventures don't stop there. Getting introduced to indigenous people whose cultures are unrecognizable to most of the world, eating mushrooms as they emerge from termite mounds, being mesmerized by ancient rock art work at Twyfelfontein, Namibia's only World Heritage Site, and taking time to listen to the silence are amongst the adventures of the mind, body and soul awaiting you in Namibia.
Action and Adventure